Join us for a one-night-only reading of The Return of Sherlock Holmes by Promethean Theatre Ensemble artistic director Brian Pastor with artistic associate Nick Lake, and The Uneventful Lives of Marvin Moriarty and Barney Blofeld by John Weagly.
Wednesday, June 13 at 7:30pm
We're always looking to work with new talented actors and designers. If you'd like to work with us in the future, you're welcome to send a resume (and, in the case of actors, a headshot) to artistic@prometheantheatre.org to be considered for opportunities for our current Season 13 slate, potential new play development readings and workshops, and future productions.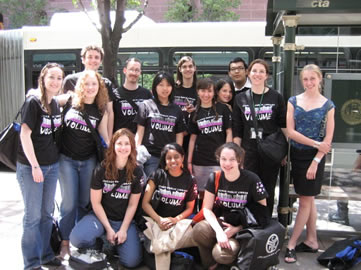 Interested in hosting a workshop?
Promethean had the opportunity to partner with the Chicago Public Library's Teen Volume Reader's Theatre Troupe. Through monthly rehearsals and performances, ensemble members served as mentors to the teens, helping them explore and better understand the world of theatre. We worked with library staff to plan rehearsal agendas, direct scenes excerpted from teen literature, and lead exercises aimed at improving theatrical skills.
From that experience we were able to build a portfolio of workshops for kids and adults, which give the students a chance to shake off their inhibitions and be themselves on stage.
Reader's Theatre Residencies and Workshops
Appropriate for grades: 4-12
Residency would run for 5-8 weeks
Number of students: 10-30
Activities involved: Warm-ups, diction and voice training, script reading, character selection and interpretation, movement workshop, posture and physicality training.
Scripts can be chosen by teacher to align with curriculum
Outcomes: Students become familiar with the process of preparation and rehearsing, and develop skills in speaking, reading fluency, taking direction, story making, scripting, gesture, and emotional learning in a safe, supportive environment
Culminating performance for parents/peers
Shakespeare Workshops
Appropriate for grades: K-8
Number of students: 10-30
Activities involved: Developing choral readings of sonnets or monologues, brief staging of large scenes with many characters, short reenactments of entire plays
Outcomes: Students become familiar with Shakespeare and language-focused scripts.  Speaking skills, reading fluency, story making, improvisation, and emotional learning are all addressed and strengthened
Reader's Theatre Teacher Training (Professional Development)
Group size: up to 12 teachers, ideally suited for entire-department training
For teachers interested in developing Reader's Theatre skills
Activities involved: 3 sessions covering script selection, movement and gesture, projection, warm-ups, posture, diction, and character creation
Outcomes: Teachers become well-versed in Reader's Theatre and its applications in the classroom. Empowers teachers to start and maintain a Reader's Theatre program