When you're looking around for charitable giving opportunities, we hope you'll consider supporting these worthwhile organizations. We're aware that they represent only a small fraction of the good work that's happening all around us, every day. We strongly encourage you to support any worthy cause that helps make the world a better place!
Promethean Theatre Ensemble is honored to draw your attention to:
The Inclusive Playwright Project | Once again, Promethean was delighted to join our friends at Shattered Globe Theatre in co-producing The Inclusive Playwright Project (formerly Artist Development Workshop)'s annual benefit showcase: SKETCHTOPIA. For more than 20 years, Mike Ervin has led this writing workshop for playwrights with and without disabilities. Their work has been seen in readings and productions in Chicago and around the country. Learn more and and join us in supporting them by clicking here. (SKETCHTOPIA 2022 was available for YouTube viewing July 27th – August 1, 2022)
Chicago Votes | This nonpartisan, nonprofit organization is dedicated to building a more inclusive democracy by putting power in the hands of young Chicagoans. They're engaging and developing a new generation of leaders by opening the doors of government and politics to young people from all corners of the city. They're changing laws to make Chicago and Illinois a better place to be young, and in the process, they're making democracy fun! Click here to learn more. Click here to volunteer. Click here to donate. (We supported the Chicago Votes Education Fund with post-show collections during our production of Richard III 5/20/22 through 6/25/22.)
In 2021 our audiences joined us in supporting:
Artist Development Workshop | PTE was happy to produce Artist Development Workshop's  SKETCHTOPIA 2021 alongside our friends at Shattered Globe Theatre. Artist Development Workshop is open to playwrights with and without disability. Their annual benefit showcase, SKETCHTOPIA, features selections and excerpts from plays created during a 24-week workshop. If you would like to support Artist Development Workshop you can do so by clicking here. Choose "On Behalf Of" in the drop-down menu and add ADW. (SKETCHTOPIA 2021 was available for YouTube viewing July 9-12, 2021.)
Southside Blooms | Every flower purchased from Southside Blooms creates jobs for at-risk youth, converts vacant lots into safe and productive community assets, and actively contributes to the health and resilience of the environment through regenerative farming practices. Southside Blooms is a project of Chicago Eco House, a 501c3 nonprofit with a mission of using sustainability to alleviate poverty. (We supported this organization by donating a portion of the money that was received through donations at our 5/19/21 Virtual Trivia Party.)
In 2020 our audiences joined us in supporting:
In 2019 our audiences helped us "share the love" with these three great non-profits:
Women & Children First Bookstore's Women's Voices Fund | This organization ensures that events featuring women writers, fostering discussion of feminist issues and culture, and nurturing children's delight in books will continue to play a vital role in Chicago's intellectual, literary, and political life. (We supported this organization with post-show collections during our production of Blue Stockings 9/13/19 through 10/13/19.)
American Foundation for Suicide Prevention | AFSP is the nation's largest non-profit dedicated to saving lives and bringing hope by raising awareness, funding scientific research and providing resources and aid to those affected by suicide. (We supported this organization with post-show collections during our production of Mad Beat Hip & Gone 4/27/19 through 6/1/19.)
Howard Brown Health | Since 1974, Howard Brown Health has been doing amazing and important work, offering health and social services to the LGBTQ community here in Chicago. From pediatrics to geriatrics, they deliver expert care to the LGBTQ community and its allies – regardless of ability to pay. (We supported this organization with post-show collections during our production of Gross Indecency 2/15/19 through 3/23/19.)
Swedish American Museum
As our city (and world!) learns to operate with limited summer camp, daycare, and early childhood education options, Promethean ensemble members are delighted to help the Swedish American Museum in their childhood literacy outreach. Visit the museum's Making Poetry page to see how we put our experience with the written and spoken word to good use. Invite the children in your life to check it out – then work together to write a poem.
Through its arts and educational programs and its permanent collection, the Swedish American Museum interprets the immigrant experience for children and adults and promotes an appreciation of contemporary Swedish-American culture.
Free Tickets for Chicago Public School Students
Discounts to Promethean shows are always available for students, seniors and active military. And if you're a Chicago Public School teacher, please email our box office at
boxoffice@prometheantheatre.org
for information about our FREE ticket offer for CPS students. We want to see your students – and you – at the theatre!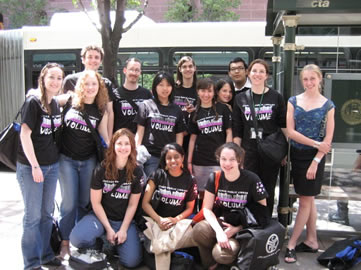 Interested in hosting a workshop?
Chicago Public Library
Promethean had the opportunity to partner with the Chicago Public Library's Teen Volume Reader's Theatre Troupe. Through monthly rehearsals and performances, ensemble members served as mentors to the teens, helping them explore and better understand the world of theatre. We worked with library staff to plan rehearsal agendas, direct scenes excerpted from teen literature, and lead exercises aimed at improving theatrical skills.
From that experience we were able to build a portfolio of workshops for kids and adults, which give the students a chance to shake off their inhibitions and be themselves on stage.
Reader's Theatre Residencies and Workshops
Appropriate for grades: 4-12
Residency would run for 5-8 weeks
Number of students: 10-30
Activities involved: Warm-ups, diction and voice training, script reading, character selection and interpretation, movement workshop, posture and physicality training.
Scripts can be chosen by teacher to align with curriculum
Outcomes: Students become familiar with the process of preparation and rehearsing, and develop skills in speaking, reading fluency, taking direction, story making, scripting, gesture, and emotional learning in a safe, supportive environment
Culminating performance for parents/peers
Shakespeare Workshops
Appropriate for grades: K-8
Number of students: 10-30
Activities involved: Developing choral readings of sonnets or monologues, brief staging of large scenes with many characters, short reenactments of entire plays
Outcomes: Students become familiar with Shakespeare and language-focused scripts.  Speaking skills, reading fluency, story making, improvisation, and emotional learning are all addressed and strengthened
Reader's Theatre Teacher Training (Professional Development)
Group size: up to 12 teachers, ideally suited for entire-department training
For teachers interested in developing Reader's Theatre skills
Activities involved: 3 sessions covering script selection, movement and gesture, projection, warm-ups, posture, diction, and character creation
Outcomes: Teachers become well-versed in Reader's Theatre and its applications in the classroom. Empowers teachers to start and maintain a Reader's Theatre program